The Bands of Mourning
Cari appassionati di libri, oggi abbiamo il secondo appuntamento con le novità letterarie di gennaio.
Continuiamo con la lingua inglese assieme i suggerimenti di goodreads
Goodreads
Questa sezione comprende tutti i libri in lingua che probabilmente non sono disponibili in lingua italiana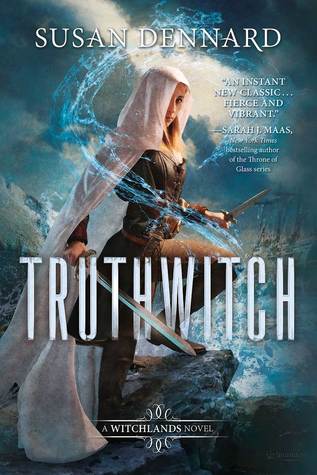 Titolo: Truthwitch
Autore: Susan Dennard
Saga:
Truthwithc #1
Editore:
Tor Teen
Data di pubblicazione:
5 gennaio
Pagine:
416
Costo:
14,01
On a continent ruled by three empires, some are born with a "witchery", a magical skill that sets them apart from others. In the Witchlands, there are almost as many types of magic as there are ways to get in trouble—as two desperate young women know all too well. Safiya is a Truthwitch, able to discern truth from lie. It's a powerful magic that many would kill to have on their side, especially amongst the nobility to which Safi was born. So Safi must keep her gift hidden, lest she be used as a pawn in the struggle between empires. Iseult, a Threadwitch, can see the invisible ties that bind and entangle the lives around her—but she cannot see the bonds that touch her own heart. Her unlikely friendship with Safi has taken her from life as an outcast into one of reckless adventure, where she is a cool, wary balance to Safi's hotheaded impulsiveness. Safi and Iseult just want to be free to live their own lives, but war is coming to the Witchlands. With the help of the cunning Prince Merik (a Windwitch and ship's captain) and the hindrance of a Bloodwitch bent on revenge, the friends must fight emperors, princes, and mercenaries alike, who will stop at nothing to get their hands on a Truthwitch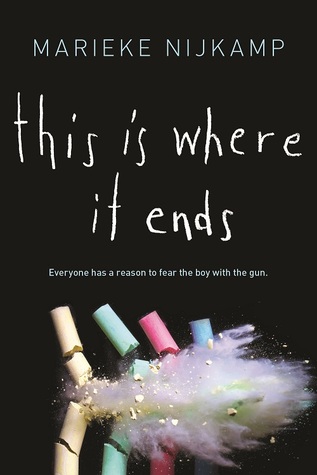 Titolo: This is where it ends
Autore: Marieke Nijkamp
Editore: Sourcebooks Fire
Data di pubblicazione: 5 gennaio
Pagine: 292
Costo: 16,37
10:00 a.m. The principal of Opportunity, Alabama's high school finishes her speech, welcoming the entire student body to a new semester and encouraging them to excel and achieve.
10:02 a.m. The students get up to leave the auditorium for their next class. 10:03 The auditorium doors won't open.
10:05 Someone starts shooting. Told over the span of 54 harrowing minutes from four different perspectives, terror reigns as one student's calculated revenge turns into the ultimate game of survival.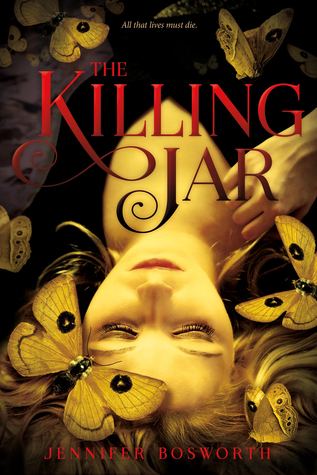 Titolo:
The killing jar
Autore:
Jennifer Bosworth
Editore:
Straus and Giroux
Data di pubblicazione: 12 gennaio
Pagine: 352
Costo: 13, 74
"I try not to think about it, what I did to that boy."
Seventeen-year-old Kenna Marsden has a secret. She's haunted by a violent tragedy she can't explain. Kenna's past has kept people—even her own mother—at a distance for years. Just when she finds a friend who loves her and life begins to improve, she's plunged into a new nightmare. Her mom and twin sister are attacked, and the dark powers Kenna has struggled to suppress awaken with a vengeance. On the heels of the assault, Kenna is exiled to a nearby commune, known as Eclipse, to live with a relative she never knew she had. There, she discovers an extraordinary new way of life as she learns who she really is, and the wonders she's capable of. For the first time, she starts to feel like she belongs somewhere. That her terrible secret makes her beautiful and strong, not dangerous. But the longer she stays at Eclipse, the more she senses there is something malignant lurking underneath it all. And she begins to suspect that her new family has sinister plans for her…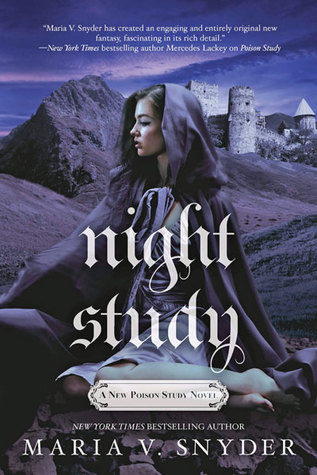 Titolo: Night Study
Autorce: Maria V. Snyder
Saga: Soulfinders #2 - Chronicles of Ixia #8
Editore: Mira Ink
Data di pubblicazione: 26 gennaio
Pagine: 448
Costo: 15,23
Ever since being kidnapped from the Illiais Jungle as a child, Yelena Zaltana's life has been fraught with peril. But the recent loss of her Soulfinding abilities has endangered her more than ever before. As she desperately searches for a way to reclaim her magic, her enemies are closing in, and neither Ixia nor Sitia is safe for her anymore. Especially since the growing discord between the two countries and the possibility of a war threatens everything Yelena holds dear. Valek is determined to protect Yelena, but he's quickly running out of options. The Commander suspects that his loyalties are divided, and he's been keeping secrets from Valek…secrets that put him, Yelena and all their friends in terrible danger. As they uncover the various layers of the Commander's mysterious plans, they realize it's far more sinister than they could have ever imagined.
Titolo: The bands of mourning
Autore: Brandon Sanderson
Saga: Mistborn #6
Editore: Tor Books
Data di pubblicazione: 26 gennaio
Pagine: 448
The Bands of Mourning are the mythical metalminds owned by the Lord Ruler, said to grant anyone who wears them the powers that the Lord Ruler had at his command. Hardly anyone thinks they really exist. A kandra researcher has returned to Elendel with images that seem to depict the Bands, as well as writings in a language that no one can read. Waxillium Ladrian is recruited to travel south to the city of New Seran to investigate. Along the way he discovers hints that point to the true goals of his uncle Edwarn and the shadowy organization known as The Set.