Cari appassionati di libri eccomi qui con la carrelata di uscite in lingua inglese che avrei dovuto pubblicare ieri, ma alla fine ho deciso di prendermi cura di me stessa (le donne capiranno) e di leggere almeno un libro per la mia TBR. Sono ancora ottimista e credo di riuscire a finirla prima del mese U.U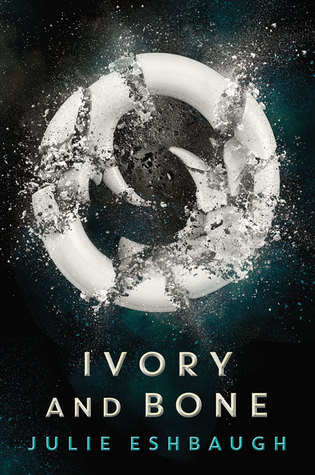 Titolo: Ivory and Bone
Autore: Julie Eshbaugh
Saga: Ivory and Bone #1
Editore: HarperTeen
Data di pubblicazione: 7 giugno
Pagine: 384
A prehistoric fantasy—with allusions to Pride and Prejudice. Hunting, gathering, and keeping his family safe—that's the life seventeen-year-old Kol knows. Then bold, enigmatic Mya arrives from the south with her family, and Kol is captivated. He wants her to like and trust him, but any hopes of impressing her are ruined when he makes a careless—and nearly grave—mistake. However, there's something more to Mya's cool disdain…a history wrought with loss that comes to light when another clan arrives. With them is Lo, an enemy from Mya's past who Mya swears has ulterior motives. As Kol gets to know Lo, tensions between Mya and Lo escalate until violence erupts. Faced with shattering losses, Kol is forced to question every person he's trusted. One thing is for sure: this was a war that Mya or Lo—Kol doesn't know which—had been planning all along.
Titolo: The butterfly garden
Autore: Dot Hutchison
Editore:
Thomas & Mercer
Data di pubblicazione:
1 giugno
Pagine:
276
Near an isolated mansion lies a beautiful garden. In this garden grow luscious flowers, shady trees…and a collection of precious "butterflies"—young women who have been kidnapped and intricately tattooed to resemble their namesakes. Overseeing it all is the Gardener, a brutal, twisted man obsessed with capturing and preserving his lovely specimens. When the garden is discovered, a survivor is brought in for questioning. FBI agents Victor Hanoverian and Brandon Eddison are tasked with piecing together one of the most stomach-churning cases of their careers. But the girl, known only as Maya, proves to be a puzzle herself. As her story twists and turns, slowly shedding light on life in the Butterfly Garden, Maya reveals old grudges, new saviors, and horrific tales of a man who'd go to any length to hold beauty captive. But the more she shares, the more the agents have to wonder what she's still hiding…
Titolo: With malice
Autore: Eileen Cook
Editore: MNH Books
Data di pubblicazione: 7 giugno
Pagine:
320
It was the perfect trip…until it wasn't. Eighteen-year-old Jill Charron wakes up in a hospital room, leg in a cast, stitches in her face and a big blank canvas where the last six weeks should be. She discovers she was involved in a fatal car accident while on a school trip in Italy. A trip she doesn't even remember taking. She was jetted home by her affluent father in order to receive quality care. Care that includes a lawyer. And a press team. Because maybe the accident…wasn't an accident. As the accident makes national headlines, Jill finds herself at the center of a murder investigation. It doesn't help that the media is portraying her as a sociopath who killed her bubbly best friend, Simone, in a jealous rage. With the evidence mounting against her, there's only one thing Jill knows for sure: She would never hurt Simone. But what really happened? Questioning who she can trust and what she's capable of, Jill desperately tries to piece together the events of the past six weeks before she loses her thin hold on her once-perfect life.
Titolo: The Wheel of Osheim
Autore: Mark Lawrence
Saga:
The Red Queen's War #3
Editore:
Harper Voyage
Data di pubblicazione:
2 giugno
Pagine:
656
All the horrors of Hell stand between Snorri Ver Snagason and the rescue of his family, if indeed the dead can be rescued. For Jalan Kendeth, getting back out alive and with Loki's key is all that matters. Loki's creation can open any lock, any door, and it may also be the key to Jalan's fortune back in the living world. Jalan plans to return to the three w's that have been the core of his idle and debauched life: wine, women, and wagering. Fate however has other plans, larger plans. The Wheel of Osheim is turning ever faster, and it will crack the world unless it's stopped. When the end of all things looms, and there's nowhere to run, even the worst coward must find new answers. Jalan and Snorri face many dangers, from the corpse hordes of the Dead King to the many mirrors of the Lady Blue, but in the end, fast or slow, the Wheel of Osheim always pulls you back. In the end it's win or die.
Titolo: The Cresswell plot
Autore: Eliza Wass
Editore: Diseny-Hyperion
Data di pubblicazione: 7 giugno
Pagine: 272
Castella Cresswell and her five siblings—Hannan, Caspar, Mortimer, Delvive, and Jerusalem—know what it's like to be different. For years, their world has been confined to their ramshackle family home deep in the woods of upstate New York. They abide by the strict rule of God, whose messages come directly from their father. Slowly, Castley and her siblings start to test the boundaries of the laws that bind them. But, at school, they're still the freaks they've always been to the outside world. Marked by their plain clothing. Unexplained bruising. Utter isolation from their classmates. That is, until Castley is forced to partner with the totally irritating, totally normal George Gray, who offers her a glimpse of a life filled with freedom and choice. Castley's world rapidly expands beyond the woods she knows so well and the beliefs she once thought were the only truths. There is a future waiting for her if she can escape her father's grasp, but Castley refuses to leave her siblings behind. Just as she begins to form a plan, her father makes a chilling announcement: the Cresswells will soon return to their home in heaven. With time running out on all of their lives, Castley must expose the depth of her father's lies. The forest has buried the truth in darkness for far too long. Castley might be their last hope for salvation.