Lettori in soffitta, siamo al primo post delle nuove uscite del mese *.* Devo dire che se settembre è stato ricchissimo quando si ha a che fare con le letture in lingua e ottobre non è da meno, ma decisamente non quando il mese precedente.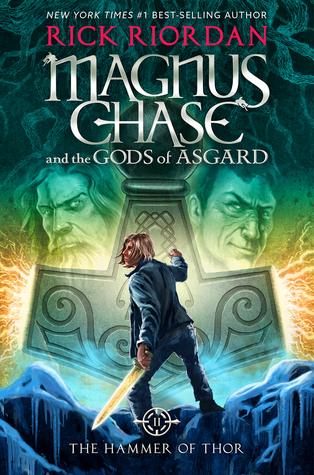 Titolo: The Hammer of Thor
Autore: Rick Riordan
Saga:
Magnus Chase and the Gods of Asgard #1
Editore:
Disney Hyperion
Data di pubblicazione:
4 ottobre
Thor's hammer is missing again. The thunder god has a disturbing habit of misplacing his weapon--the mightiest force in the Nine Worlds. But this time the hammer isn't just lost, it has fallen into enemy hands. If Magnus Chase and his friends can't retrieve the hammer quickly, the mortal worlds will be defenseless against an onslaught of giants. Ragnarok will begin. The Nine Worlds will burn. Unfortunately, the only person who can broker a deal for the hammer's return is the gods' worst enemy, Loki--and the price he wants is very high
Titolo: Aerie
Autore: Maria Dahvana Headley
Saga: Magonia #2
Editore: Harper Collins
Data di pubblicazione: 4 ottobre
Pagine:
320
Where is home when you were born in the stars? Aza Ray is back on earth. Her boyfriend Jason is overjoyed. Her family is healed. She's living a normal life, or as normal as it can be if you've spent the past year dying, waking up on a sky ship, and discovering that your song can change the world. As in, not normal. Part of Aza still yearns for the clouds, no matter how much she loves the people on the ground. When Jason's paranoia over Aza's safety causes him to make a terrible mistake, Aza finds herself a fugitive in Magonia, tasked with opposing her radical, bloodthirsty, recently-escaped mother, Zal Quel, and her singing partner Dai. She must travel to the edge of the world in search of a legendary weapon, The Flock, in a journey through fire and identity that will transform her forever.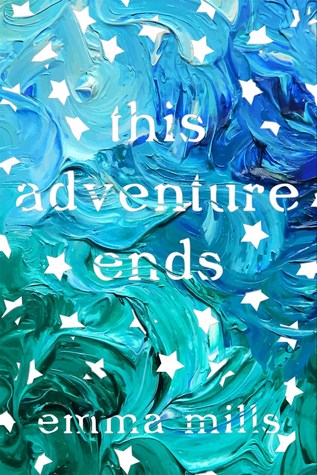 Titolo: This Adventure Ends
Autore; Emma Mills
Editore: Henry Holt and Co.
Data di pubblicazione: 4 ottobre
Pagine: 320
Sloane isn't expecting to fall in with a group of friends when she moves from New York to Florida—especially not a group of friends so intense, so in love, so all-consuming. Yet that's exactly what happens. Sloane becomes closest to Vera, a social-media star who lights up any room, and Gabe, Vera's twin brother and the most serious person Sloane's ever met. When a beloved painting by the twins' late mother goes missing, Sloane takes on the responsibility of tracking it down, a journey that takes her across state lines—and ever deeper into the twins' lives. Filled with intense and important friendships, a wonderful warts-and-all family, shiveringly good romantic developments, and sharp, witty dialogue, this story is about finding the people you never knew you needed.
Titolo: Last Seen Leaving
Autore: Caleb Roehrig
Editore: Feiwel & Friends
Data di pubblicazione: 4 ottobre
Pagine: 336
Flynn's girlfriend has disappeared. How can he uncover her secrets without revealing his own? Flynn's girlfriend, January, is missing. The cops are asking questions he can't answer, and her friends are telling stories that don't add up. All eyes are on Flynn—as January's boyfriend, he must know something. But Flynn has a secret of his own. And as he struggles to uncover the truth about January's disappearance, he must also face the truth about himself.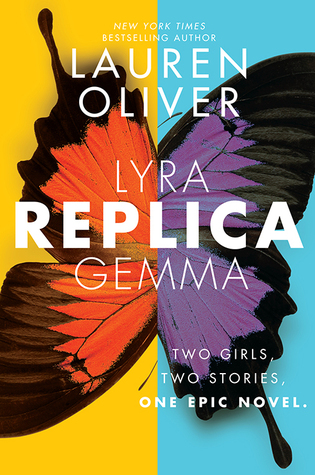 Titolo: Replica
Autore:
Lauren Oliver
Saga:
Replica #1
Editore:
HarperCollins
Data di pubblicazione:
4 ottobre
Pagine:
544
Gemma has been in and out of hospitals since she was born. 'A sickly child', her lonely life to date has revolved around her home, school and one best friend, Alice. But when she discovers her father's connection to the top secret Haven research facility, currently hitting the headlines and under siege by religious fanatics, Gemma decides to leave the sanctuary she's always known to find the institute and determine what is going on there and why her father's name seems inextricably linked to it. Amidst the frenzy outside the institute's walls, Lyra - or number 24 as she is known as at Haven - and a fellow experimental subject known only as 72, manage to escape. Encountering a world they never knew existed outside the walls of their secluded upbringing , they meet Gemma and, as they try to understand Haven's purpose together, they uncover some earth-shattering secrets that will change the lives of both girls forever...
Titolo: Our Chemical Hearts
Autore: Krystal Sutherland
Editore: Putnam's Son Books
Data di pubblicazione: 4 ottobre
Pagine: 320
Henry Page has never been in love. He fancies himself a hopeless romantic, but the slo-mo, heart palpitating, can't-eat-can't-sleep kind of love that he's been hoping for just hasn't been in the cards for him—at least not yet. Instead, he's been happy to focus on his grades, on getting into a semi-decent college and finally becoming editor of his school newspaper. Then Grace Town walks into his first period class on the third Tuesday of senior year and he knows everything's about to change. Grace isn't who Henry pictured as his dream girl—she walks with a cane, wears oversized boys' clothes, and rarely seems to shower. But when Grace and Henry are both chosen to edit the school paper, he quickly finds himself falling for her. It's obvious there's something broken about Grace, but it seems to make her even more beautiful to Henry, and he wants nothing more than to help her put the pieces back together again. And yet, this isn't your average story of boy meets girl. Krystal Sutherland's brilliant debut is equal parts wit and heartbreak, a potent reminder of the bittersweet bliss that is first love.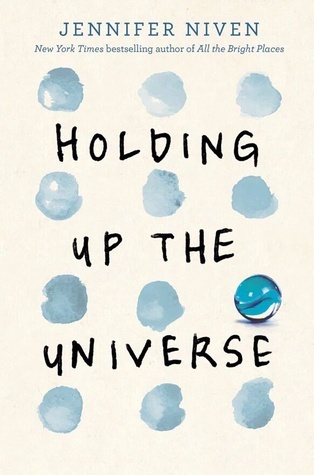 Titolo: Holding up the universe
Autore: Jennifer Niven
Editore: Knopf Books
Data di pubblicazione: 4 ottobre
Pagine: 400
Everyone thinks they know Libby Strout, the girl once dubbed "America's Fattest Teen." But no one's taken the time to look past her weight to get to know who she really is. Following her mom's death, she's been picking up the pieces in the privacy of her home, dealing with her heartbroken father and her own grief. Now, Libby's ready: for high school, for new friends, for love, and for EVERY POSSIBILITY LIFE HAS TO OFFER. In that moment, I know the part I want to play here at MVB High. I want to be the girl who can do anything. Everyone thinks they know Jack Masselin, too. Yes, he's got swagger, but he's also mastered the impossible art of giving people what they want, of fitting in. What no one knows is that Jack has a newly acquired secret: he can't recognize faces. Even his own brothers are strangers to him. He's the guy who can re-engineer and rebuild anything in new and bad-ass ways, but he can't understand what's going on with the inner workings of his brain. So he tells himself to play it cool: Be charming. Be hilarious. Don't get too close to anyone. Until he meets Libby. When the two get tangled up in a cruel high school game—which lands them in group counseling and community service—Libby and Jack are both pissed, and then surprised. Because the more time they spend together, the less alone they feel. . . . Because sometimes when you meet someone, it changes the world, theirs and yours.
Titolo: The Motion of Puppets
Autore: Keith Donohue
Editore: Picador
Data di pubblicazione: 4 ottobre
Pagine: 272
In the Old City of Québec, Kay Harper falls in love with a puppet in the window of the Quatre Mains, a toy shop that is never open. She is spending her summer working as an acrobat with the cirque while her husband, Theo, is translating a biography of the pioneering photographer Eadweard Muybridge. Late one night, Kay fears someone is following her home. Surprised to see that the lights of the toy shop are on and the door is open, she takes shelter inside. The next morning Theo wakes up to discover his wife is missing. Under police suspicion and frantic at her disappearance, he obsessively searches the streets of the Old City. Meanwhile, Kay has been transformed into a puppet, and is now a prisoner of the back room of the Quatre Mains, trapped with an odd assemblage of puppets from all over the world who can only come alive between the hours of midnight and dawn. The only way she can return to the human world is if Theo can find her and recognize her in her new form. So begins a dual odyssey: of a husband determined to findhis wife, and of a woman trapped in a magical world where her life is not her own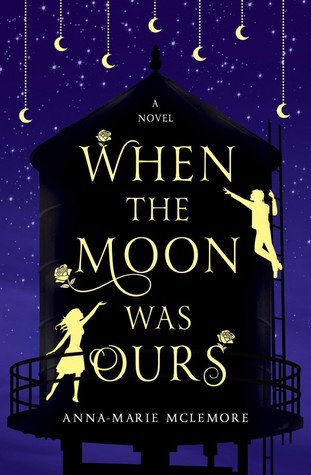 Titolo: When the Moon Was Ours
Autore:
Anna-Marie McLemore
Editore:
Thomas Dunne
Data di pubblicazione:
4 ottobre
Pagine:
288
When the Moon Was Ours follows two characters through a story that has multicultural elements and magical realism, but also has central LGBT themes—a transgender boy, the best friend he's falling in love with, and both of them deciding how they want to define themselves. To everyone who knows them, best friends Miel and Sam are as strange as they are inseparable. Roses grow out of Miel's wrist, and rumors say that she spilled out of a water tower when she was five. Sam is known for the moons he paints and hangs in the trees, and for how little anyone knows about his life before he and his mother moved to town. But as odd as everyone considers Miel and Sam, even they stay away from the Bonner girls, four beautiful sisters rumored to be witches. Now they want the roses that grow from Miel's skin, convinced that their scent can make anyone fall in love. And they're willing to use every secret Miel has fought to protect to make sure she gives them up.