Tempo di nuove uscite *.* Ecco alcuni libri che sono usciti proprio questo giorno. Devo dire che sono tutte uscite super interessanti U_U Ovviamente li voglio comprare tutti.
Titolo: Gilded Cage
Autore: Vic James
Saga: Dark Gifts #1
Editore: Del Rey
Data di pubblicazione:
14 febbraio
Pagine: 368
Not all are free. Not all are equal. Not all will be saved. Our world belongs to the Equals — aristocrats with magical gifts — and all commoners must serve them for ten years. But behind the gates of England's grandest estate lies a power that could break the world. A girl thirsts for love and knowledge. Abi is a servant to England's most powerful family, but her spirit is free. So when she falls for one of the noble-born sons, Abi faces a terrible choice. Uncovering the family's secrets might win her liberty, but will her heart pay the price? A boy dreams of revolution. Abi's brother, Luke, is enslaved in a brutal factory town. Far from his family and cruelly oppressed, he makes friends whose ideals could cost him everything. Now Luke has discovered there may be a power even greater than magic: revolution. And an aristocrat will remake the world with his dark gifts. He is a shadow in the glittering world of the Equals, with mysterious powers no one else understands. But will he liberate—or destroy?
Titolo: The Wish Granter
Autore: C.J. Redwine
Saga: Ravenspire #2
Editore: Balzer + Bray
Data di pubblicazione: 14 febbraio
Pagine: 432
The world has turned upside down for Thad and Ari Glavan, the bastard twins of Súndraille's king. Their mother was murdered. The royal family died mysteriously. And now Thad sits on the throne of a kingdom whose streets are suddenly overrun with violence that he can't stop. Growing up ignored by the nobility, Ari never wanted to be a proper princess. And when Thad suddenly starts training Ari to take his place, she realizes that her brother's ascension to the throne wasn't fate. It was the work of a Wish Granter named Alistair Teague, who tricked Thad into wishing away both the safety of his people and his soul in exchange for the crown. So Ari recruits the help of Thad's enigmatic new weapons master, Sebastian Vaughn, to teach her how to fight Teague. With secret ties to Teague's criminal empire, Sebastian might just hold the key to discovering Alistair's weaknesses, saving Ari's brother—and herself. But Teague is ruthless and more than ready to destroy anyone who dares stand in his way—and now he has his sights set on the princess. And if Ari can't outwit him, she'll lose Sebastian, her brother...and her soul.
Titolo: American Street
Autore: Ibi Zoboi
Editore: Balzer + Bray
Data di pubblicazione: 14 febbraio
Pagine: 336
On the corner of American Street and Joy Road, Fabiola Toussaint thought she would finally find une belle vie—a good life. But after they leave Port-au-Prince, Haiti, Fabiola's mother is detained by U.S. immigration, leaving Fabiola to navigate her loud American cousins, Chantal, Donna, and Princess; the grittiness of Detroit's west side; a new school; and a surprising romance, all on her own. Just as she finds her footing in this strange new world, a dangerous proposition presents itself, and Fabiola soon realizes that freedom comes at a cost. Trapped at the crossroads of an impossible choice, will she pay the price for the American dream?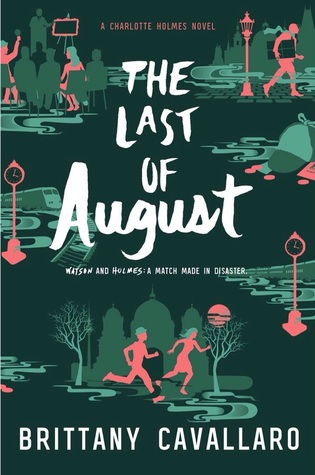 Titolo: The last of August
Autore: Brittany Cavallaro
Saga: Charlotte Holmes #2
Editore: Katherine Tegen
Data di pubblicazione: 14 febbraio
Pagine:336
In the second brilliant, action-packed book in the Charlotte Holmes trilogy, Jamie and Charlotte are in a chase across Europe to untangle a web of shocking truths about the Holmes and Moriarty families. Jamie Watson and Charlotte Holmes are looking for a winter break reprieve in Sussex after a fall semester that almost got them killed. But nothing about their time off is proving simple, including Holmes and Watson's growing feelings for each other. When Charlotte's beloved uncle Leander goes missing from the Holmes estate—after being oddly private about his latest assignment in a German art forgery ring—the game is afoot once again, and Charlotte throws herself into a search for answers. So begins a dangerous race through the gritty underground scene in Berlin and glittering art houses in Prague, where Holmes and Watson discover that this complicated case might change everything they know about their families, themselves, and each other.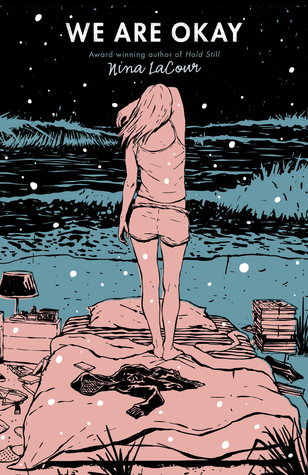 Titolo: We Are Okay
Autore: Nina LaCour
Editore: Dutton Books
Data di pubblicazione: 14 febbraio
Pagine: 240
"You go through life thinking there's so much you need. . . . Until you leave with only your phone, your wallet, and a picture of your mother." Marin hasn't spoken to anyone from her old life since the day she left everything behind. No one knows the truth about those final weeks. Not even her best friend Mabel. But even thousands of miles away from the California coast, at college in New York, Marin still feels the pull of the life and tragedy she's tried to outrun. Now, months later, alone in an emptied dorm for winter break, Marin waits. Mabel is coming to visit and Marin will be forced to face everything that's been left unsaid and finally confront the loneliness that has made a home in her heart.
Titolo: Ones and Zero
Autore: Dan Wells
Saga: Mirador #2
Editore: Balzer + Bray
Data di pubblicazione: 14 febbraio
Pagine:
416
Overworld. It's more than just the world's most popular e-sport—for thousands of VR teams around the globe, Overworld is life. It means fame and fortune, or maybe it's a ticket out of obscurity or poverty. If you have a connection to the internet and four friends you trust with your life, anything is possible. Marisa Carneseca is on the hunt for a mysterious hacker named Grendel when she receives word that her amateur Overworld team has been invited to Forward Motion, one of the most exclusive tournaments of the year. For Marisa, this could mean everything—a chance to finally go pro and to help her family, stuck in an LA neighborhood on the wrong side of the growing divide between the rich and the poor. But Forward Motion turns out to be more than it seems—rife with corruption, infighting, and danger—and Marisa runs headlong into Alain Bensoussan, a beautiful, dangerous underground freedom fighter who reveals to her the darker side of the forces behind the tournament. It soon becomes clear that, in this game, winning might be the only way to get out alive. Dan Wells returns to the dark, perilous world of 2050 Los Angeles with another pulse-pounding story of betrayal, mystery, and suspense set in a stunning tech-noir landscape.