Salve a tutti, lettori! Ho deciso di creare un'unico post cumulativo per tutte le uscite di giugno degne di nota, almeno secondo il mio parere. Fatemi sapere cosa ne penste.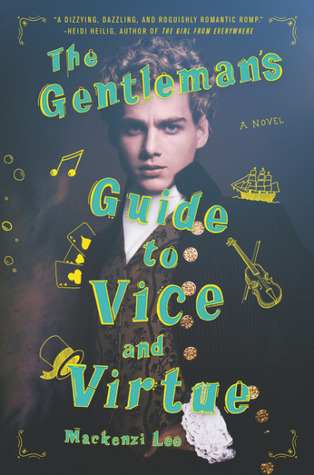 Titol:
The Gentleman's Guide to Vice and Virtue
Autore: Mackenzie Lee
Editore: Katherine Tegen Books
Data di pubblicazione: 27 giugno
Pagine: 528
An unforgettable tale of two friends on their Grand Tour of 18th-century Europe who stumble upon a magical artifact that leads them from Paris to Venice in a dangerous manhunt, fighting pirates, highwaymen, and their feelings for each other along the way.
Henry "Monty" Montague was born and bred to be a gentleman, but he was never one to be tamed. The finest boarding schools in England and the constant disapproval of his father haven't been able to curb any of his roguish passions—not for gambling halls, late nights spent with a bottle of spirits, or waking up in the arms of women or men.
But as Monty embarks on his grand tour of Europe, his quest for a life filled with pleasure and vice is in danger of coming to an end. Not only does his father expect him to take over the family's estate upon his return, but Monty is also nursing an impossible crush on his best friend and traveling companion, Percy.
Still it isn't in Monty's nature to give up. Even with his younger sister, Felicity, in tow, he vows to make this yearlong escapade one last hedonistic hurrah and flirt with Percy from Paris to Rome. But when one of Monty's reckless decisions turns their trip abroad into a harrowing manhunt that spans across Europe, it calls into question everything he knows, including his relationship with the boy he adores.
Witty, romantic, and intriguing at every turn, The Gentleman's Guide to Vice and Virtue is a sumptuous romp that explores the undeniably fine lines between friendship and love.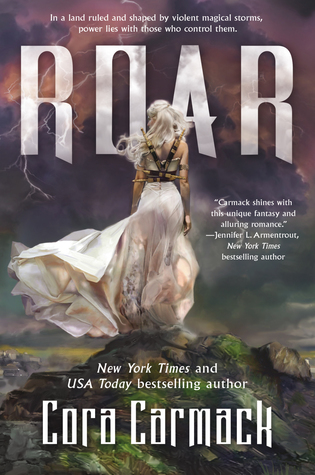 Titolo:
Roar
Autore:
Cora Carmach
Serie:
Stormheart #1
Editore:
Tor Teen
Data di pubblicazione:
13 giugno
Pagine:
380
In a land ruled and shaped by violent magical storms, power lies with those who control them.
Aurora Pavan comes from one of the oldest Stormling families in existence. Long ago, the ungifted pledged fealty and service to her family in exchange for safe haven, and a kingdom was carved out from the wildlands and sustained by magic capable of repelling the world's deadliest foes. As the sole heir of Pavan, Aurora's been groomed to be the perfect queen. She's intelligent and brave and honorable. But she's yet to show any trace of the magic she'll need to protect her people.
To keep her secret and save her crown, Aurora's mother arranges for her to marry a dark and brooding Stormling prince from another kingdom. At first, the prince seems like the perfect solution to all her problems. He'll guarantee her spot as the next queen and be the champion her people need to remain safe. But the more secrets Aurora uncovers about him, the more a future with him frightens her. When she dons a disguise and sneaks out of the palace one night to spy on him, she stumbles upon a black market dealing in the very thing she lacks—storm magic. And the people selling it? They're not Stormlings. They're storm hunters.
Legend says that her ancestors first gained their magic by facing a storm and stealing part of its essence. And when a handsome young storm hunter reveals he was born without magic, but possesses it now, Aurora realizes there's a third option for her future besides ruin or marriage.
She might not have magic now, but she can steal it if she's brave enough.
Challenge a tempest. Survive it. And you become its master.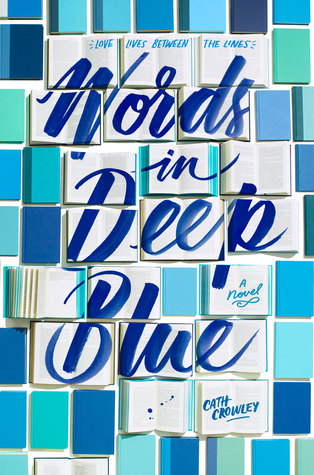 Titolo:
Words in Deep Blue
Autore:
Cath Crowley
Editore:
Knopf Book
Data di pubblicazione: 6
giugno
Pagine:
288
Years ago, Rachel had a crush on Henry Jones. The day before she moved away, she tucked a love letter into his favorite book in his family's bookshop. She waited. But Henry never came.
Now Rachel has returned to the city—and to the bookshop—to work alongside the boy she'd rather not see, if at all possible, for the rest of her life. But Rachel needs the distraction. Her brother drowned months ago, and she can't feel anything anymore.
As Henry and Rachel work side by side—surrounded by books, watching love stories unfold, exchanging letters between the pages—they find hope in each other. Because life may be uncontrollable, even unbearable sometimes. But it's possible that words, and love, and second chances are enough.
Titolo:
Dividing Eden
Autore:
Joelle Charbonneau
Serie:
Divinding Eden #1
Editore:
Harper Collins
Data di pubblicazione: 6
giugno
Pagine:
336
A sweeping fantasy, by the bestselling author of
The Testing
, about two royal siblings forced to compete for the crown.
Twins Carys and Andreus were never destined to rule Eden. With their older brother next in line to inherit the throne, the future of the kingdom was secure.
But appearances—and rivals—can be deceiving. When Eden's king and crown prince are killed by assassins, Eden desperately needs a monarch, but the line of succession is no longer clear. With a ruling council scheming to gain power, Carys and Andreus are faced with only one option: to take part in a Trial of Succession that will determine which one of them is worthy of ruling the kingdom.
As sister and brother, Carys and Andreus have always kept each other safe—from their secrets, from the court, and from the monsters lurking in the mountains beyond the kingdom's wall. But the Trial of Succession will test the bonds of trust and family.
With their country and their hearts divided, Carys and Andreus will discover exactly what each will do to win the crown. How long before suspicion takes hold and the thirst for power leads to the ultimate betrayal?
Titolo:
Song of the Current
Autore:
Sarah Tolcser
Serie:
Song of the Current #1
Editore:
Bloomsbury
Data di pubblicazione: 6
giugno
Pagine:
373
Caroline Oresteia is destined for the river. For generations, her family has been called by the river god, who has guided their wherries on countless voyages throughout the Riverlands. At seventeen, Caro has spent years listening to the water, ready to meet her fate. But the river god hasn't spoken her name yet—and if he hasn't by now, there's a chance he never will.
Caro decides to take her future into her own hands when her father is arrested for refusing to transport a mysterious crate. By agreeing to deliver it in exchange for his release, Caro finds herself caught in a web of politics and lies, with dangerous pirates after the cargo—an arrogant courier with a secret—and without the river god to help her. With so much at stake, Caro must choose between the life she always wanted and the one she never could have imagined for herself.
From debut author Sarah Tolcser comes an immersive and romantic fantasy set along the waterways of a magical world with a headstrong heroine determined to make her mark.
Titolo:
The Evaporation of Sofi Snow
Autore:
Mary Weber
Serie:
The Evaporation of Sofi Snow #1
Editore:
Thomas Nelson
Data di pubblicazione: 6
giugno
Pagine:
352
Ever since the Delonese ice-planet arrived eleven years ago, Sofi's dreams have been vivid. Alien. In a system where Earth's corporations rule in place of governments and the humanoid race orbiting the moon are allies, her only constant has been her younger brother, Shilo. As an online gamer, Sofi battles behind the scenes of Earth's Fantasy Fighting arena where Shilo is forced to compete in a mix of real and virtual blood sport. But when a bomb takes out a quarter of the arena, Sofi's the only one who believes Shilo survived. She has dreams of him. And she's convinced he's been taken to the ice-planet.
Except no one but ambassadors are allowed there.
For Miguel, Earth's charming young playboy, the games are of a different sort. As Ambassador to the Delonese, his career has been built on trading secrets and seduction. Until the Fantasy Fight's bomb goes off. Now the tables have turned and he's a target for blackmail. The game is simple: Help the blackmailers, or lose more than anyone can fathom, or Earth can afford.
Titolo:
The Unlikelies
Autore:
Carrie Firestone
Editore:
Litte, Brown and Company
Data di pubblicazione:
6 giugno
Pages:
336
One good deed will change everything.
Sadie is not excited for the summer before her senior year. It will be her first without her college-bound best friend and (now ex-)boyfriend by her side, so Sadie braces herself for a long, lonely, and boring season working at a farm stand in the Hamptons. But things take an unexpected turn when Sadie steps in to help rescue a baby in peril and footage of her impromptu good deed goes viral.
As she's recovering from "the incident" and adjusting to her Internet fame, Sadie receives an invitation to a lunch honoring teem homegrown heroes. The five honorees instantly connect and soon decide to spend their time together righting local wrongs. Sadie and her new friends embark on escalating acts of vigilante Good Samaritanism, but might be in over her heads when they try to help a heroin-addicted friend. Are good intentions enough to hold unlikely friendships—and an even unlikelier new romance—together?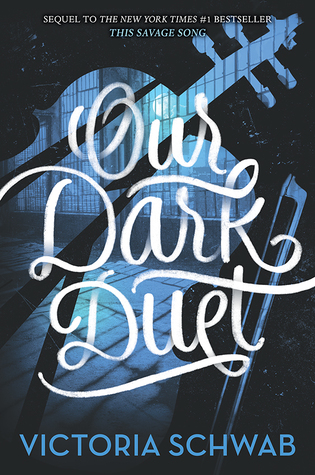 Titolo
Our Dark Duet
Autore:
Victoria Schwab
Serie:
Monsters of Verity #2
Editore:
Greenwillow Books
Data di pubblicazione:
13 giugnp
Pagine:
528
Kate Harker is a girl who isn't afraid of the dark. She's a girl who hunts monsters. And she's good at it. August Flynn is a monster who can never be human, no matter how much he once yearned for it. He's a monster with a part to play. And he will play it, no matter the cost.
Nearly six months after Kate and August were first thrown together, the war between the monsters and the humans is terrifying reality. In Verity, August has become the leader he never wished to be, and in Prosperity, Kate has become the ruthless hunter she knew she could be. When a new monster emerges from the shadows—one who feeds on chaos and brings out its victim's inner demons—it lures Kate home, where she finds more than she bargained for. She'll face a monster she thought she killed, a boy she thought she knew, and a demon all her own.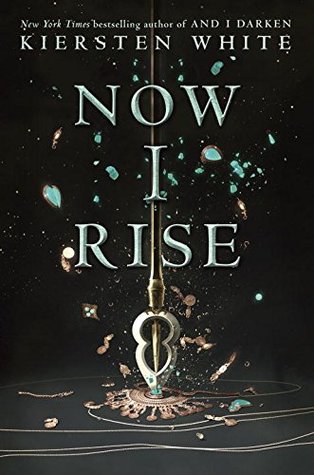 Titolo:
Now I Rise
Autore:
Kiersten White
Serie:
The Conqueror's Saga #2
Editore:
Delacorte Press
Data di pubblicazione:
27 giugno
Pagine:
496
Lada Dracul has no allies. No throne. All she has is what she's always had: herself. After failing to secure the Wallachian throne, Lada is out to punish anyone who dares to cross her blood-strewn path. Filled with a white-hot rage, she storms the countryside with her men, accompanied by her childhood friend Bogdan, terrorizing the land. But brute force isn't getting Lada what she wants. And thinking of Mehmed brings little comfort to her thorny heart. There's no time to wonder whether he still thinks about her, even loves her. She left him before he could leave her.
What Lada needs is her younger brother Radu's subtlety and skill. But Mehmed has sent him to Constantinople—and it's no diplomatic mission. Mehmed wants control of the city, and Radu has earned an unwanted place as a double-crossing spy behind enemy lines. Radu longs for his sister's fierce confidence—but for the first time in his life, he rejects her unexpected plea for help. Torn between loyalties to faith, to the Ottomans, and to Mehmed, he knows he owes Lada nothing. If she dies, he could never forgive himself—but if he fails in Constantinople, will Mehmed ever forgive him?
As nations fall around them, the Dracul siblings must decide: what will they sacrifice to fulfill their destinies? Empires will topple, thrones will be won . . . and souls will be lost
Titolo:
Obisidian and Stars
Autore:
Julie Eshbaugh
Serie:
Ivory and Bone #2
Editore:
Harper Teen
Data di pubblciazione:
13 giugno
Pagine:
368
In the sequel to
Ivory and Bone
—the prehistoric fantasy novel that
New York Times
bestselling author Amie Kaufman described as a "richly crafted world of life-and-death stakes"—the story shifts to Mya's viewpoint as vengeful adversaries force her to flee the life she once knew.
After surviving the chaotic battle that erupted after Lo and the Bosha clan attacked, now Mya is looking ahead to her future with Kol. All the things that once felt so uncertain are finally falling into place. But the same night as Kol and Mya's betrothal announcement, Mya's brother Chev reveals his plan to marry his youngest sister Lees to his friend Morsk. The only way to avoid this terrible turn of events, Morsk informs Mya when he corners her later, is for Mya to take Lees' place and marry him herself.
Refusing to marry anyone other than her beloved, and in an effort to protect her sister, Mya runs away to a secret island with Lees. And though it seems like the safest place to hide until things back home blow over, Mya soon realizes she's been followed. Lurking deep in the recesses of this dangerous place are rivals from Mya's past whose thirst for revenge exceeds all reason.
With the lives of her loved ones on the line, Mya must make a move before the enemies of her past become the undoing of her future.
Titolo:
Thief's Cunning
Autore:
Sarah Ahiers
Serie:
Assassin's Heart #2
Editore:
Harper Teen
Data di pubblicazione:
13 giugno
Pagine:
416
The companion novel to Assassin's Heart—a riveting fantasy that Printz Award-winning author Laura Ruby said "will keep you turning the pages all night long"—Thief's Cunning picks up eighteen years later and follows Allegra Saldana as she uncovers the secrets about the line of killers she descends from.
Allegra Saldana has always had to look over her shoulder. As the niece of the infamous assassin Lea Saldana, Allegra is used to hiding from people who want her dead. Once the strongest clipper family in the Kingdom of Lovero, the Saldanas—or what's left of them—are now the most hunted. Their number one enemy is the Da Vias, whose thirst for retaliation is almost two decades in the making.
At least that's what Lea has told Allegra her whole life, but lately Allegra's been feeling like things are being kept from her—including her parents' identity. So when Allegra finally learns the truth—I'm a Da Via—her world crumbles. Feeling betrayed by the people she trusted the most, Allegra turns to Nev, a Traveler boy whose presence makes her feel alive in ways she's only dreamed of. But getting caught up in Nev's world has consequences Allegra never saw coming.
In this dark and enthralling fantasy that fans of Sarah Maas and Leigh Bardugo will devour, one girl must decide whether she's destined to pay for the wrongs of her family's past…or if the future is hers for the taking.